For Our Members Only!
Group Items
Once you have enrolled and have been accepted to the Charlie Michael Group, you may wish to purchase some or all of the group memorabilia we offer! Don't forget, membership is free to all! Only the items listed below require a purchase! Remember, theses items are for CM members Only!
The Charlie Michael Roster
Do you like to know who your talking to and keep track of those priceless QSOs? Want to QSL another member but couldn't get the co-ordinates? The group's roster is sure to be the most useful tool to all members! You will always recieve the latest edition of the CM roster delievered right to your front door!
Included with the roster, you will recieve free, your Charlie Michael's Membership Certificate, which is suitable for framing!
CM QSL Cards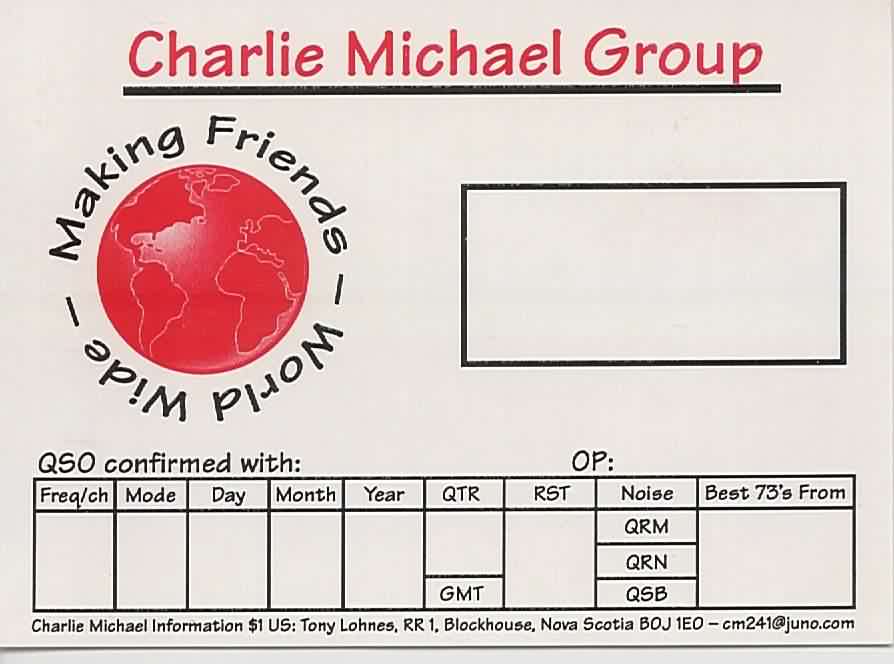 The group does offer a standard 3"x5" CM QSL card, the perfect size for inside an envelope! As mentioned earlier, this group does QSL 100%, so what's a better way to do it! Of course, you do not need reply with these QSL cards, just be sure to reply!
Personalized CM Rubber Stamps
You can also purchase a personalized CM rubber stamp. Each stamp includes your CM unit # and is made to be used in the space provided on the CM QSL Cards. Makes you and your cards look very professional!
The CM License Plate

What mobile is complete without The Official CM License Plate. Leave everyone know your an Official Charlie Michael SSB operator!
"Official" CM Hats
We offer in a wide variety of colors, a Base-ball style cap for our members. Show the world you support your hobby!
"Official" CM T-shirts
We also offer, in a wide variety of sizes and colors, The CM T-shirt! This is probably our most popular item! Comfortable and stylish, it's sure to be your favorite too!
Embroidered CM Jackets
You asked for it, you got it! As per several requests for a "personalized" jacket, Tony has once again done it! A very comfortable Embroidered jacket, complete with your name and CM call! Nice heavy construction, and quality materials are sure to make these last a long time! And did I mention they are washable?
---
For ordering Info, or a current pricelist:
Please contact our group's president:
Tony, 9 CM 241
---