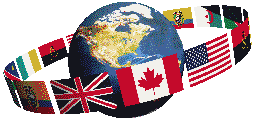 Congratulations! You have just found
The Charlie Michael DX Group's
Official Homepage!
On this page you will find tons of information on the CM Group, including:

A brief group history,
A current net schudule,
Group news and happenings,
How to join our group,
Plus a whole lot more!

So please, sit back and get comfortable! Take a couple of minutes to come in and look around!       


by the late CM 1, Harold from Apollo Beach, Florida, U.S.A.
---

---
"This is the Charlie Michael DX Group's official history. I will try to be brief and at the same time, welcome you to the group. Notice that I've used the term group, not club. Clubs have dues and meetings and a vast amount of rules. We don't! We do realize that every organization must have some guidelines, so we've kept ours to the bare minimum:
1. Your CM Number was issued for use on SSB only! Any frequency you wish, but not on AM or FM.
2. Your CM Number is only to be used in good faith and with honorable intentions. Try to be considerate of all users on the band.
3.There is no more rules!

"The Group was started in December, 1989 by six gentlemen out of the Apollo Beach, Florida area of the United States. It actually started out as a lark between the six of us. We'd each try to put the other five people in "the Red Zone", by putting our antennas higher or getting a bigger radio or a better microphone. Then one day I managed to put the other five into "the Red Zone". CM 5 said to me, "You are indeed the Channel Master!" Channel Master, we thought, that would make a great name for a SSB group. Abbreviated CM, said phonetically as Charlie Michael, we all liked it! It had that certain ring to it when said , so we decided to start a group ( in jest ) called the Charlie Michael's, and the rest is history!"
Sadly to say, 2 CM 1, Harold, our founding member, passed away in June of 1996, but the group he started is still growing strong. Let's keep it that way, in memory of Harold!
---



The Group Today.....
Today the Charlie Michael Group is alive and very active. As of December of 1999, the group is approaching 3,000 members strong and still growing by the day!

The Charlie Michael Group is now under control of
Tony / 9 CM 241, our Group's President.
Tony is located in Blockhouse, Nova Scotia, Canada. With Tony at our stern, the group is growing at an unbelievable rate. With members World-Wide, and International Net Checks everyday, the group is definitely very active! We have several DX net checks across the U.S and Canada, and even from as far away as England and Austrailia!

The CM group also has several coffee breaks, also know as "Eyeball QSOs", at different times and locations throughout the year. These are mainly set-up by the individual Net Co-ordinators for the group in their area. But once a year, the we do have a Group Camp-out. We highly encourage anyone who can make these events, please come and have fun, make a day of it! It's always a pleasure to meet who your talking to! All dates and locations will be posted on this page, with at least 30 days advance notice. This info may also be obtained by e-mail from 9 CM 241 / Tony, or from any of the Net Co-ordinators.
The group also runs a used equipment, swap shop for the members having some excess equipment, in good shape and in good working order, they wish to part with. Looking for a radio, or have one for sale? Why not try the group members first?
Looking to join?
Are you an 11 meter radio operator who enjoys SSB DXin'? Why not become a member of our group? As we mentioned earlier, this is a group, not a club. Membership is always free!! That's right, it's free, and there is no further commitment. All we need is your name and exact QTH
EX: Tony L.....Blockhouse, Nova Scotia, Canada
All additional personal information is optional, such as your address, phone number, ect... These are not required, but they would also be appreciated!
Do you live in an active area for 11 meter SSB?
We are also looking for
Regional Net Co-ordinators!
All new co-ordinators will be reponsible for setting up a CM DX Net Check in their area, along with recruiting new members, and assigning them CM callsigns. You may set your net up for any time, day, and frequency you, and/or any local members, would choose! All new Co-ordinators will also recieve a block of CM callsigns, for the recruiting of any new members whom join our group through them! You must, of course, keep track of their information and e-mail or snail mail us the info to keep the Group's roster updated.
"Either way you choose, both are free lifetime memberships!"
---
Once you become a member:
Once becoming a member of the Charlie Michael Group, the main thing we ask is that you conduct yourself in an appropriate manner, after all you are representing the whole CM group, not just yourself! Be kind and curtious no matter what the situation arises, after all, it's just a hobby! Remember, this group is all about making and meeting new friends, and promoting world peace.
We, as a group, do not welcome trouble makers. No one in the group plays "hall monitor",but if you are doing wrong, we know who you are and what you are doing, and if it continues.......?
The only other thing we ask is for all operators to follow the age old gentlemen's agreement for SSB operators. This just asks operators not to operate SSB on channels 1-15 or 17-35, and vice-verca, no AM, or FM on channels 16 or 36-40.AM or FM in the Free-Band? OUT OF THE QUESTION!
Do not use
Channel 9
for anything but
Emergency Purposes!
---
Where to find us:
Looking for some of our members to talk to? Try us on these frequencies:
27.380.0 LSB
27.385.0 LSB
27.465.0 LSB
27.505.0 LSB
27.535.0 LSB
The Charlie Michael Call Frequency
27.545.0 LSB
27.555.0 LSB
27.555.0 USB
The International Call Frequency
27.695.0 LSB
27.900.0 USB
"These are not the only frequencies we use, but the ones that we use the most!"
Most of the World-Wide members can be found by monitoring
27.535.0 LSB

The Jive 535!
This is the CM Group's International Call Frequency!
So now that you know a little about us, we hope to hear from you real soon! And we hope all the new members out there enjoy the group as much as we do!
PS: Don't forget to sign our guestbook!
73!!
and Happy DX'in!!